How ELET Token Will Benefit Gamers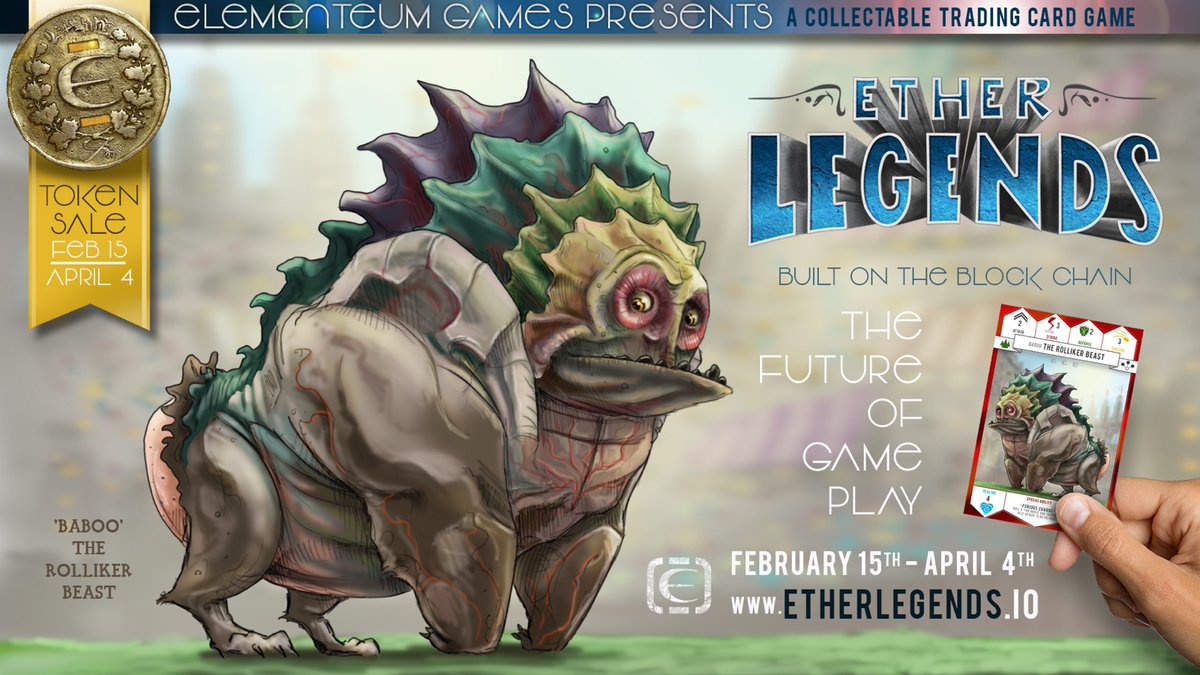 What are ELET Tokens?
ELET Token is a token or means of smart contract exchange used on Ether Legends blockchain based gaming platform. ELET is short for Elementeum and this is the underlying currency for exchange and other Ether Legends game based transactions.
Ether legends is a fun, visually stunning and interactive gaming platform where collectible cards can be traded, sold, or bought. It can be played in person with physical trading cards or digitally and since the game is run by self-executing smart contracts, middlemen are eliminated.
Redemption of the physical trading cards to the blockchain is one of the great features of Ether Legends as this can be done by scanning the unique QR code located on the back of the physical card. Once these physical cards are scanned into the blockchain then it is transformed into player owned digital assets.
The digitized asset is then recorded and stored, on Ethereum platform; one of the fastest and most secure forms of initiating transactions. Unlike normal trading card games where players' data is stored on centralized servers and players have limited rights to their content, the Digital Game Assets ensure that you exercise full ownership of your assets.
Here is a link to the introduction of Ether Legends gaming utilizing blockchain technology.
https://youtu.be/B6yOaMmB9UE
How Gamers Will Benefit From ELET Token and Ether Legends
Gamers will benefit a whole lot from this groundbreaking integration of gaming and blockchain as they would have the opportunity to monetize their game time in all aspects.
Meteor Framework
As a gamer, you want to enjoy the full experience of your online game. Ether Legends understands this and that is why the meteor framework is being utilized for building the application architecture. This cross-platform framework eliminates redundancy and web technologies like HTML, JavaScript, and CSS are employed. The game gives you a level of portability and flexibility.
Secure Ethereum Platform
Ether Legends is built on a decentralized system of operation, unlike centralized platforms which are prone to hacking and strict third-party regulations. This platform enables a skill-based competition where the Gamer is rewarded based on his or her skills and no reliance on payment processors thereby protecting against organization corruption such as fraud etc.
Full Automation
The platform's ability to record game results automatically is based on the implementation of its smart contracts and the game software. Gamers are rewarded automatically via smart contracts which also automates the purchase, sales and trading process through the Ether Legends marketplace.
Game Transaction Data and Digital Game Assets
This Game Transaction Data (GTD) keeps wins and loss records of the games on the platform. While the Digital Game Assets (DGA) like digital content of players including; digital trading cards, digital items and even ELET are linked to the player's wallets address and Sky Box account.
External Exchange
The Elementeum Games Team, the creators of the Ether legends gaming platform are working on making the exchange of digital assets available on a host of other platforms. This, when implemented, will have a tremendous impact on the value of the coins earned during gameplay and it will ultimately help the token bought yield value.
Are you a gamer? Then it's time to prove your dexterity. Show the world that you have an eye for value by being a part of this once in this lifetime opportunity. There are several advantages and they have all been highlighted above, the choice is yours now.
Website : https://www.etherlegends.io/