£4m Rare F1 Car Fleet To Be Sold In Cryptocurrency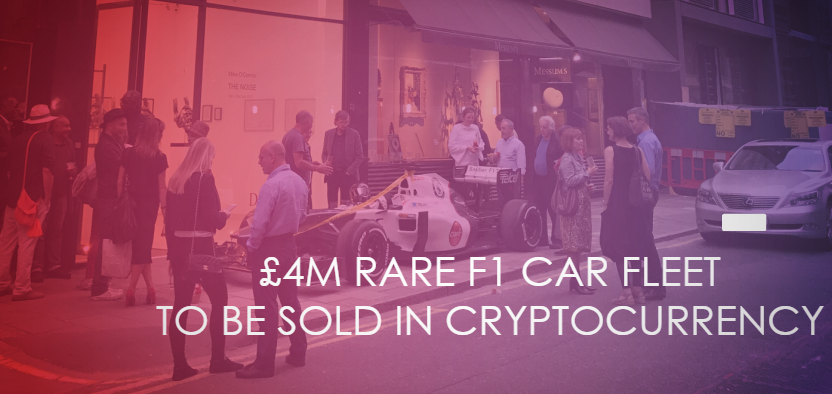 In a world first, the sale has been agreed for a fleet of rare F1 cars, collectively valued at approximately £4m, to be purchased in cryptocurrency.
The four-car fleet will be sold to a private Chinese buyer transacting with cryptocurrency Litecoin, subject to standard verification.
Orchestrated by London-based Dadiani Syndicate – the UK's first market place to offer luxury assets solely in cryptocurrency – the cars are being sold by Heritage F1, the UK's only F1 car dealership.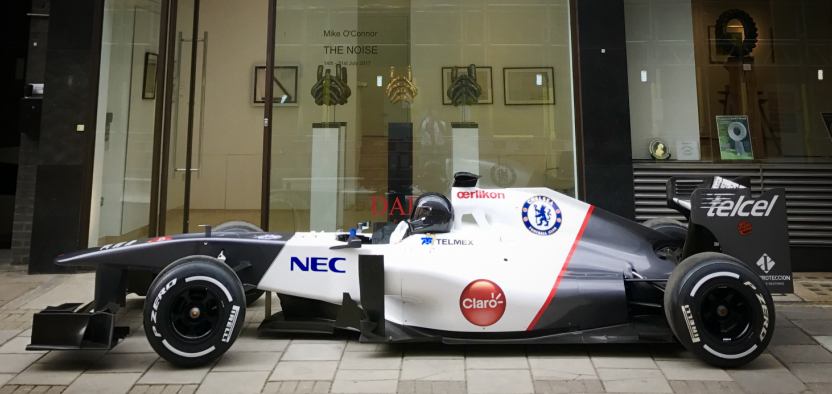 The deal represents the first time ever that either a single F1 car, or fleet of F1 cars, will have been purchased using cryptocurrency.
The flagship car in the fleet is the 2011 Sauber Ferrari C30, raced by Sauber Motorsports in the 2011 F1 season. The car was driven by drivers Kamui Kobayashi (who achieved 5th place with the car at the Monaco Grand Prix) and Sergio Perez, with the vehicle boasting a carbon-fibre body, a 2,400 cc V9 engine and seven-speed semi-automatic carbon-fibre gearbox. The purchase of the Sauber as part of the collection also includes the Sauber's matching transport lorry and truck.
All four cars are fully raceable and track worthy, but are also appreciating investments. Since the introduction of quieter F1 cars with V6 turbo hybrid engines in 2014, the value of pre-V6 turbo hybrid engine cars has in some instances more than trebled in the last few years.
The sale comes just a few weeks after the launch of Dadiani Syndicate, a bespoke platform that operates as a cryptocurrency conduit – enabling international HNW consumers to purchase assets from luxury dealerships in a wide range of cryptocurrencies.
In recent months there has been a rise of fine assets being sold in cryptocurrency: in September, entrepreneur Baroness Michelle Mone put two 40-storey residential complexes in Dubai up for sale in Bitcoin, while this month a £5.3m Caribbean island was put up for sale exclusively in Bitcoin.
The cryptocurrency market itself has also experienced explosive growth this year, with the value of one Bitcoin surging from around $750 at the start of the year to over $17,000 this month. Litecoin, one of the main rivals to Bitcoin, has seen its market value rise by over 1400% this year – with the total cryptocurrency market currently valued at over $450bn.
Eleesa Dadiani, founder of Dadiani Syndicate, said:
"We are hugely excited to be conducting the sale of these exquisite machines in cryptocurrency.
"The introduction of the blockchain has created a new economy layer, which is yet to be fully realised – especially in international trade and cross-border transactions.
"Cryptocurrency is not just about 'getting rich' – it is about facilitating trade and investment in a more transparent, decentralised way."
Mike O'Connor, founder of Heritage F1, said:
"The sale of this breath-taking collection of Formula One cars, in cryptocurrency, will set a new precedent and open up a whole new international market to us.
"There is increasing demand for the purchase of luxury assets in cryptocurrency, and we are confident that this sale, in partnership with Dadiani Syndicate, is just the first of many to come."
About Dadiani Syndicate
Dadiani Syndicate is the UK's first luxury market place to offer exclusive assets from hyper-cars to crown estate properties that can be bought with cryptocurrency.
The platform operates as a conduit between foreign investors and an extended network of high value asset classes and high yield investment funds, stimulating foreign investment into the UK using the blockchain.
Dadiani Syndicate offers investment opportunities across Fine Art, Hypercars and F1 Cars, Superyachts, Precious Stones, Bullion, Rare Watches, Luxury Jets, Luxury Real Estate and Bloodstock. Investors can undertake transactions through a range of cryptocurrencies, including Bitcoin, Ethereum and Litecoin.
Founded by cryptocurrency economist Eleesa Dadiani, Dadiani Syndicate forms part of the Dadiani portfolio which includes Dadiani Fine Art – a Mayfair fine art gallery that in 2017 became the first art gallery in the UK to accept cryptocurrency in payment.
www.dadianisyndicate.co.uk
About Heritage F1
Heritage F1 is the UK's only F1 car dealership. Operating since 1987, Heritage F1 offer a wide range of drivable and investable F1 Cars from the 1985 to 2015 seasons to international buyers and collectors.
Previous cars sold by Heritage F1 include the 2000 Arrows A21, the 2006 BMW Sauber F1.05 and the 1993 Sauber C12A.
The company holds one of the largest stocks of new and used F1 parts in Europe, and also offers track days for corporate or private events.
Heritage F1 is based at Bentwaters Parks, a former United States air base near Rendlesham in Suffolk, with the vehicles housed in former nuclear warhead bunkers.
www.heritage-f1.com
Contact:
Jacob Mavrik
M: +447759841863
E: jacobmavrikpr@gmail.com